Announced: January 28, 2014
Released: January 29, 2014
Valentine's Day Missions
Celebrate Valentine's Day with a set of limited time missions starting the second week of February. Learn about Raider culture with the Raider Kids by building the Ceremonial Hearthstone. There, you'll create Valentine's traps to hunt animals for the honor of being the Raider with the most "hearts." A successful ceremony will grant players the burly Flames of Love Archer unit whose majestic girth and burning desire are perfect for taking out animals.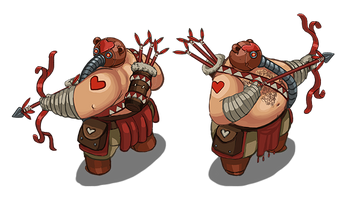 These missions should trigger for all players who are level 15+ on February 11th.
Secret Vaults
Secret Vaults are special events where players have a chance at earning units beyond their current level. In addition, players will have the chance to earn past promo units that are no longer available such as the Mammoth Tank!
Our first Secret Vault event will begin in the weeks to come. It will be available to all players that are level 10+. Similar to Boss Strike, the event's icon will appear below your avatar.
When accessed, players will be able to see what units can be earned and can roll to earn these units with Nanopods. Players can purchase a set of 3 rolls or a set of 10 that provides an 11th for free.
Each roll will provide a unit at random. The unit's value is guaranteed to match or best your Nanopod spend. Depending on your level, different units will be made available. The current level ranges are as follows:
New Prestige Unit
NOTE: This unit will NOT be immediately available on 3.3's launch. The Plasma Field Technician will be available in the near future.
Plasma Field Technician
Plasma Field Technicians are masters of the 4th state of matter. Their plasma guns take some time to charge, but they can unleash a devastating lance of raw energy capable of piercing even the densest armor.
Bug Fixes
Z2-18 Bomber's PV value has doubled for each rank for balancing.
Level 47 Players can now have 10 different occupations instead of 9.
Start up load times have been improved.
Increased client stability for battle.
Haulers should act correctly now.
Source: https://forums.z2.com/viewtopic.php?f=102&t=58409